(replaces the Timemate 2000)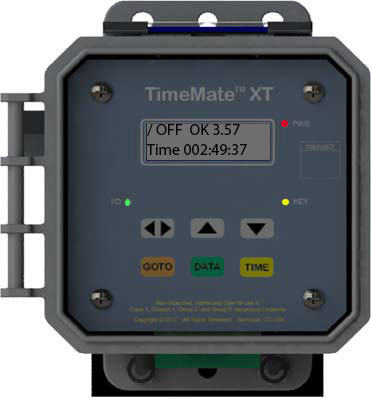 The TimeMate™XT single valve, multi-function controller has a rugged and durable, high impact, NEMA 4X UV resistant enclosure that will protect against harsh weather, corrosive gases, salt spray and the physical demands of industrial environments. An "Outside Enclosure" removable screw terminal block offers simple and easy sensor hook up. Conformal coated electronics and gold plated contacts round out the TimeMate™XT's suite of environmental protection features make the TimeMate™XT – single valve multi-function controller an excellent choice for simplified field level control.
Features
When you need simple and reliable control in the field remember the TimeMate™ XT – single valve multi-function controller.
Features include an "all stainless" latching, pneumatic solenoid valve, hrs:min:sec cycle timing,
-an extended 30 to 45 day battery life,
-both digital switch and analog voltage sensor control
-front panel LED indicators acknowledge a TouchSense™ keypad touch, sensor activity and power "On" status. All visible through a UV resistant, clear cover lid.
-removable, MicroSD card provides a large memory capacity for data
logging in standard Excel compatible format.
-Set & Go Options are the big difference between getting what you want and having to accept what you get. TimeMate™XT has two built-in feature sets that allow users to enable or disable operational features as needed to meet their application. Basic Options: the available timing cycles and digital switch functions.
Advanced Options: the two analog sensor inputs and their associated high/low or differential set point control.
-advanced power system uses a single prismatic Li-Ion cell to maintain stable battery voltage during both hot and cold weather conditions. The Li-Ion battery includes integral, built-in maximum current limiting as well as full charge voltage and low voltage shut-down control for maximum safety. An external 2.5mm power jack allows easy connection to external power sources for "off site" battery charging. Auxiliary power sources may be used with or without the internal Li-Ion battery installed. Reliable , long term performance is a major benefit gained from the evolution and refinement
of TimeMate™XT's advanced design. Patented SunSmart® power management technology ensures reliable, long term performance. All connections are protected from static electric shock. A time tested user interface, low power operation and rugged packaging provide a
high level of field reliability.