When we first introduced our SA-77 Samplers, back in 1986, we did so as we saw a growing market requirement for a simple and reliable sampler.  It needed to by easy to repair at  a low cost, it needed to be tough enough to handle the riggers of the Canadian oilpatch.  It needed it to work in sour applications, applications with a lot of salt and potentially a lot of wax potentially, it needed to work in high temperature or low temperature applications.  And it needed to work with methanol, CO2 and any variety of VOCs.  We also needed a high pressure version to operate on projects that have 1440 psig pressure ratings.  We needed a pipe mount version as well as a cabinet mounted version.  Lastly we needed it to work in 'light oil' and 'heavy oil".  So we went ahead and built just that – the best lines of samplers on the market today to meet all the above eventualities.  And best of all it starts at prices less than a good cappuccino machine.
Now, we once again we find ourselves acting on what the market demands.  This time it is to provide an electric version.  We heard you say that you wanted it just as tough, and just as easy to maintain as the original.  It needed to run on 12/24vdc and 120vac. It needed to be programmable and capable of receiving multiple input signal types.  And of course the obvious, we needed to do all this in either intrinsically safe or explosion proof system platforms.
We will be having several models released in the next few months to cover all of these requirements.  The first one out of the chutes is our 24/12vdc (120vac optional)coil operated valve actuation version, the SA77EHC, now shipping.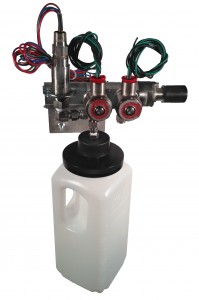 Stay tuned for more to come…